Elevator displays
INFORM, ENTERTAIN, REDUCE PERCEIVED WAITING TIME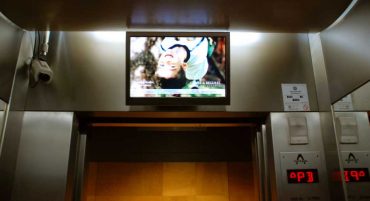 Elevator displays are generally located in buildings where you already have a fairly good grasp of the audience's demographics.  This makes it very easy to deliver targeted ads and programming that will appeal to your viewers. Perhaps the building's food court could use a quick sales lift or the local gym has a recruitment drive.  This is when elevator displays can have the greatest impact.  They let you reach out to tenants and visitors as they circulate through a building.  To reach your advertising goals, make sure you publish a mix of ads and information that is relevant to elevator occupants.  For example, you could show information about local retail businesses, news, weather and sports.  In the proper context, feel free to add entertainment content like trivia, movie news and social media content.
Don't underestimate the power of elevator screens to inform and entertain viewers.
No more boring elevator rides! Use digital signage displays to provide content that captivates and entertains riders.
Capture your audience's attention and deliver useful information.  This is especially relevant for hotels, corporate offices where you can show news items, events, weather forecasts, meeting room occupancy information or daily menus.
Trigger emergency alerts that will instantly appear on every elevator display or target specific groups of displays.
Control your displays remotely (turn on or off, retrieve real-time monitoring and more).
Schedule a live Demo
Contact us