Interactive Digital Signage
MAKE YOUR DIGITAL SIGNS INTERACTIVE!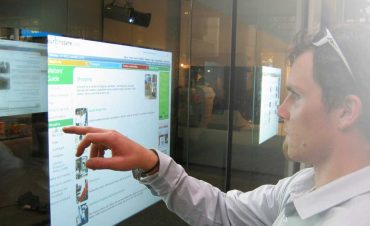 Interactive digital displays are commonly used for wayfinding.  You can find touchscreens in retail, transportation, corporate offices, stadiums, exhibition halls and many public spaces.  Many hotels also use interactive screens for digital concierge applications and information kiosks.
Navori QL lets customers create and manage any type of interactive scenario through a wide range of technologies: touch screens, sensors, RFID, Kinect motion sensors and panic buttons.
It really doesn't take a lot of effort to enhance your typical display and turn it into an interactive kiosk.  If you don't already own touch-enabled screens you can add interactive surface films or motion sensors and achieve excellent results and remember your screen can still be used to deliver advertising content and information
Here's how this works:
Create your interactive content in Flash, HTML, HTML5 or use a common programming language that is compatible with your player operating system.
Your interactive content can be…
Part of a scheduled playlist so your audience can interact with it when it shows up on screen.
Triggered using the QL Player Trigger API. QL Trigger will launch your selected content or playlist whenever an event occurs.
Events can be anything, from a key stroke, touch of the screen, remote control device, sensor, RFID, evacuation alarm system, fire alarm, etc.
Third party interactive applications can be triggered based on user detection using a keyboard or touch screen.
The QL Player trigger API is available for Windows and Android operating systems.
QL features for Interactive kiosks/Way finding
Since Navori QL supports interactivity either from a keyboard and mouse or touch-screen, users can easily adapt their own interactive Flash or HTML applications and leverage the software's content management and scheduling capabilities.

By adding the Navori Spy module, users can further enhance their applications.

 

Navori Spy will send QL Player to the background when any activity is detected.

 

Any Flash, HTML5 or third party application can be launched enabling the viewer to interact with the screen.

 

After a preset period of inactivity Navori QL Player is returned at the forefront, once again displaying the scheduled content.

Key benefits: No programming necessary, easy to configure and update, supports a wide range of third party software applications.

Applications: E-commerce, way finding, museum information kiosks, etc…
Schedule a live Demo
Contact us