QL PROFESSIONAL SOFTWARE
---
---
QL Professional is a customizable software powering displays and tablets with rich and targeted programs.
The content creation and management Interface is so user friendly that it can be used by everyone. It features multi-user, designer, playlist and scheduling, rule-based playback.
QL Player amazing engine plays any type of content natively, featuring multi-layer, multi-zone on both Windows and Android. Data feeds such as XML, RSS, Exchange, Google calendar, Twitter and more are supported with no coding.
QL Professional is an enterprise-grade standardized software. More than 10 add-ons with features specific to most application are available in option. Digital Menu board, corporate signage, advertising, retail, public venues, government, transportation and more.
System integrators customize their digital signage with QL server and player SDK.
Level-up your communication scenario with QL Digital signage software!
Author : Navori Digital Signage
COMPONENTS
Explore QL Professional's digital signage software!
QL MANAGER PROFESSIONAL
---
QL MANAGER PROFESSIONAL is the most intuitive content management system on the market. It delivers right into your web browser and there is nothing to install or maintain.
It supports multi-users, multi-levels with common or specific view and rights on content, playlist, scheduling, monitoring and playback reporting.
Compatible with secure connections (via HTTPS) and Microsoft Active Directory.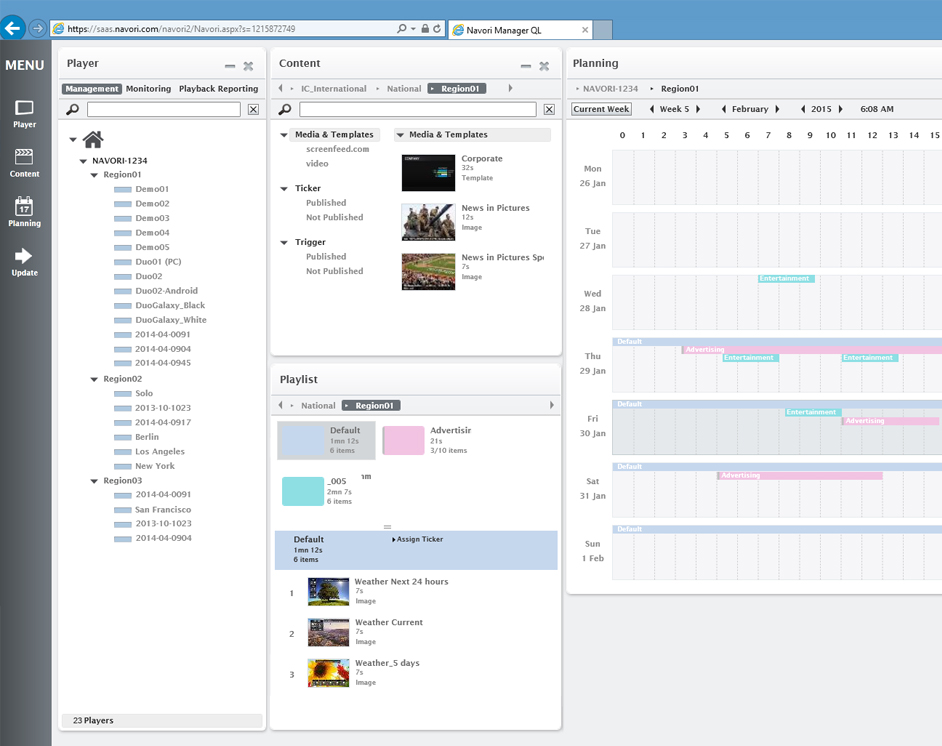 QL Player Professional
---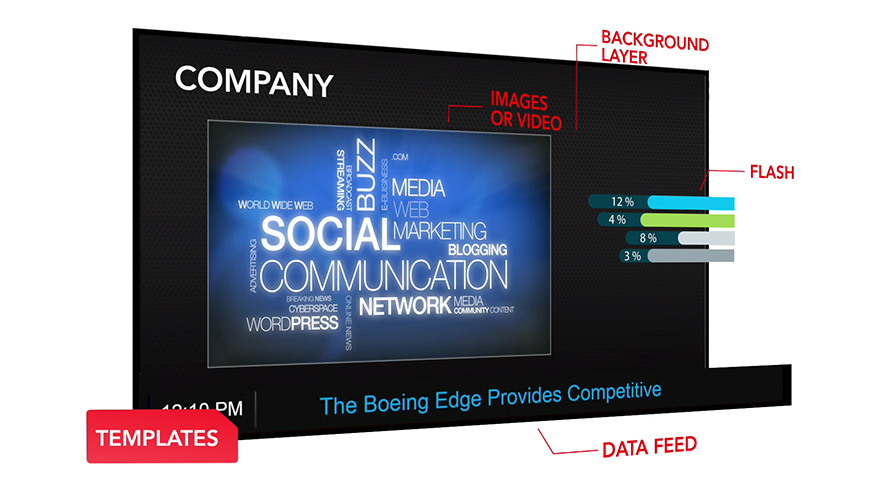 QL Server Professional
---
QL Server Professional on premise is installed and hosted on your own equipment. The on premise software is ideal for customers requiring a high level of security.
Minimum requirements
Add-ons
SDK-API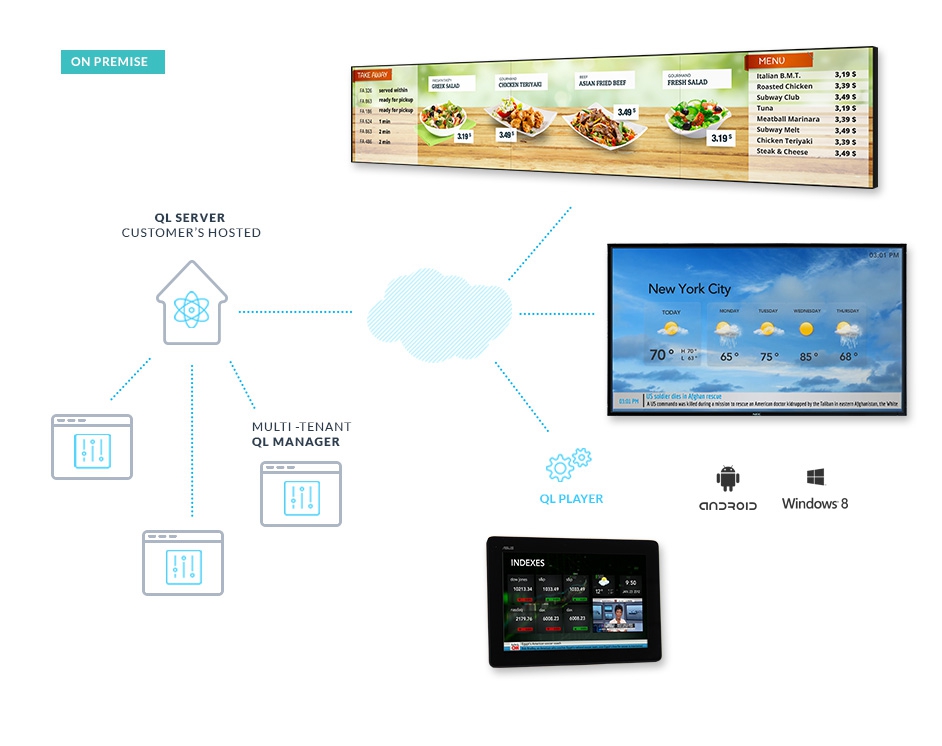 FEATURES
---
MANAGE CONTENT
---
Step 1. Import your content or create a new template.
Step 2. Drag and drop the content or template into a playlist.
Step 3. Drag and drop your playlists into the scheduling grid.
Step 4. Send the update.
It's really that easy! No special skills or complicated scripts required.
Your content will appear on screen in a matter of seconds.
---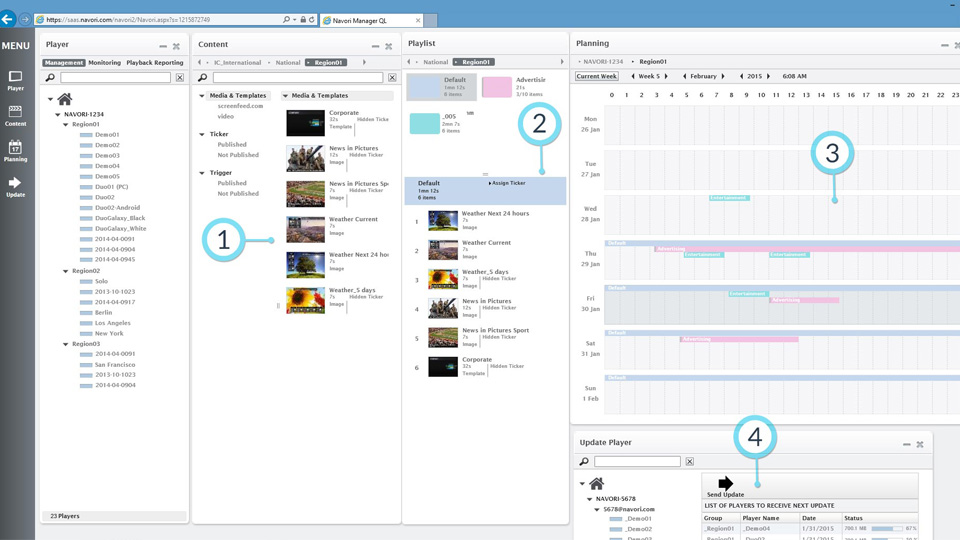 TEMPLATE DESIGNER
QL Template Designer is a versatile content creation tool. This web-based application is very easy to use so you will be productive in minutes.
QL Template Designer lets you create templates with multiple layers with content and playlist zones, text, geometric shapes, the current date and time, background and live data feeds
You can tackle creative project as each item appears on its own layer and transparency is fully supported. Data can be displayed in tables or in individual.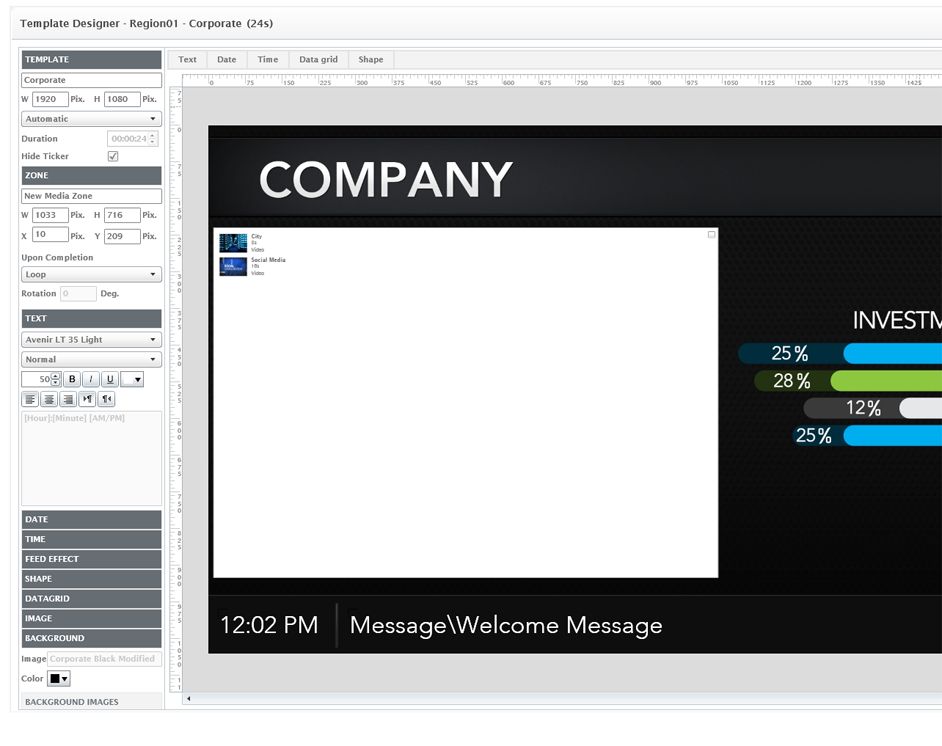 TICKER DESIGNER
---
QL can display any data in their own designed tickers. Tickers are displayed as an overlay, meaning they "float" on top of the scheduled content so they can be placed anywhere on screen.

Tickers can show any supported data feed such as stock market prices, production status figures, news items and many other types of data driven content. You are only limited by your own imagination.

Since transparency is preserved, you can anchor your logo or a clock in one corner of the screen and display a news ticker near the bottom of the screen. You can even display more than one ticker with each one pulling data from different sources.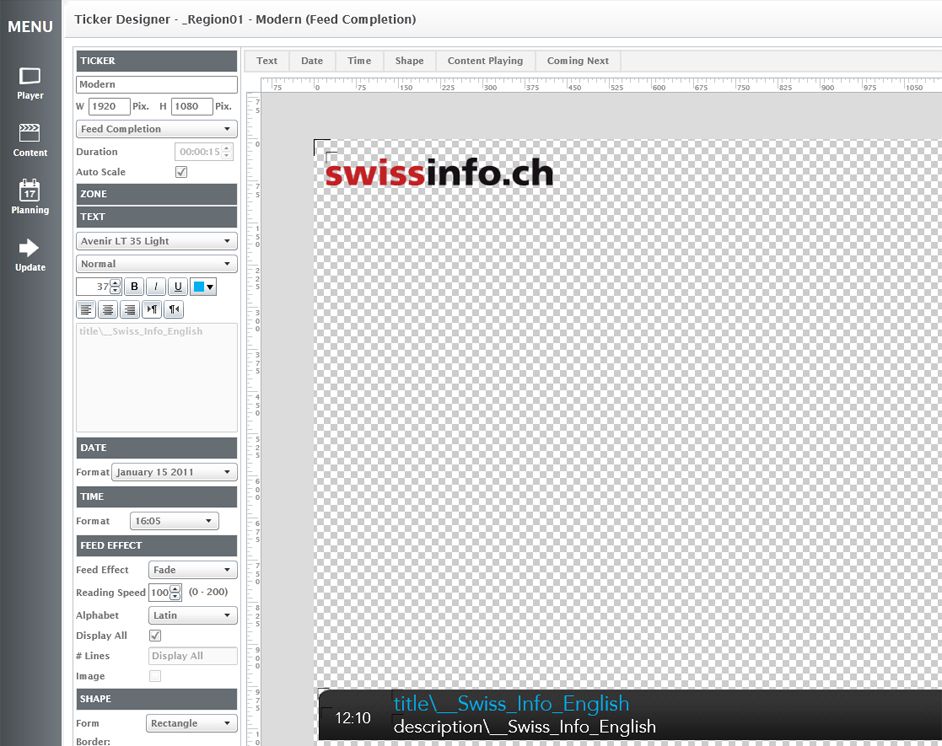 REAL-TIME DATA
---
QL Professional supports data feeds such as RSS, Media RSS, XML, Twitter, Facebook, Google and Exchange calendar and QL Server feeds including text and images.
Feeds are displayed either within ticker and template just like TV. Typical usage are ranging from data grid showing airport flight information systems FIDS or digital menu board product snapshots along with pricing, meeting room schedule, live news and corporate metrics or KPI.
ADVANCED PROGRAMMING
---
QL Professional lets you schedule your content based on sophisticated rules and blend playlist content to achieve attention grabbing results.

Assign media or web pages to individual, grouped or tagged players. Assign content validity to any content. Content can be programmed for specific days, multiple periods or even specific time. Pre-load content weeks and months in advance of promotions and announcements.

Content will automatically play when specified!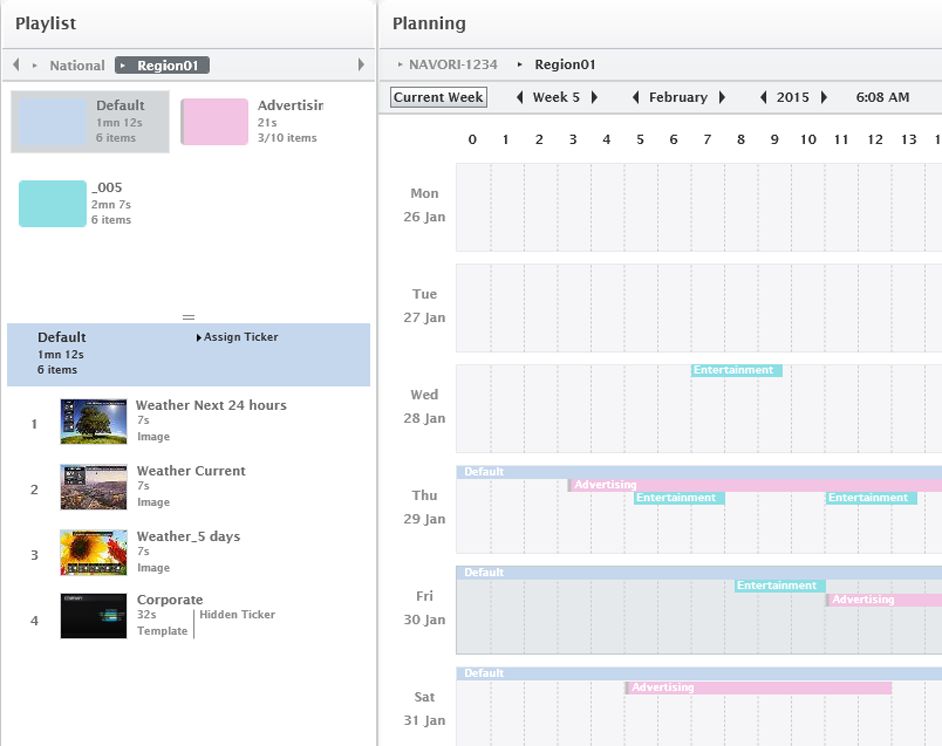 ADVERTISING
---
Digital signage software used for advertising requires very specific features.

1. Ability to predefine a number of impressions that must be strictly enforced, whatever the number of ads to display.
2. Ads must be spaced out at regular intervals in order to maximise audience exposure.
3. Content tags and campaigns: End users must be able to create and manage tags (metadata) that are assigned to each player and ad content.
4. Secure proof of playback reports must be available so ad network operators and advertisers can validate what was actually shown on each player.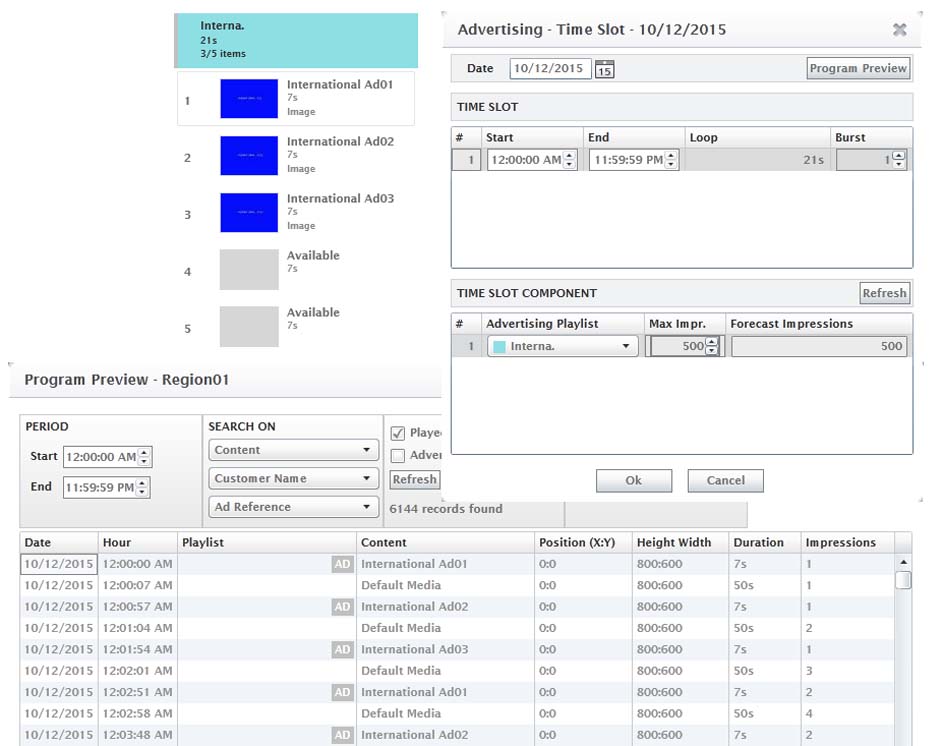 MULTI-USER
---
Create multi-level organisational structures that can be assigned to select groups of users. Users can only see and use the resources that have been assigned to them (Players, Content, etc…).

Ideal for multi-tenant installations hosting multiple customers from a single QL Server (Digital Signage Operators).

Enhanced user account management and Microsoft Active Directory support.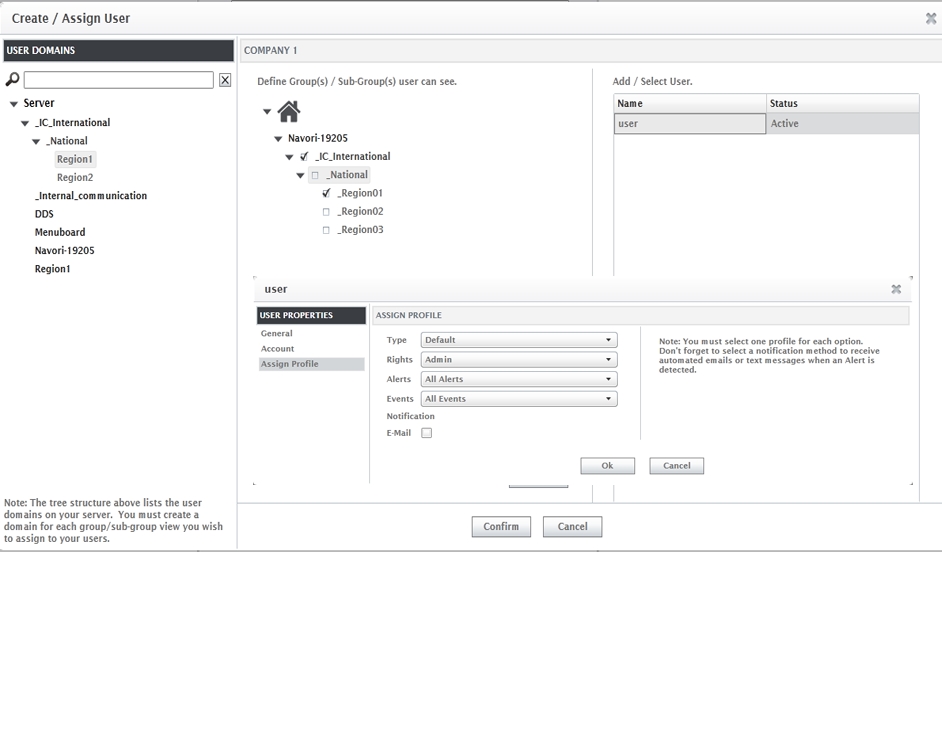 ENHANCED MONITORING
---
QL Manager Professional has several advanced features that give you total control over your entire player network. See the status of all your players at a glance and more. Go beyond visual cues and get the complete picture via our QL Player Monitoring window. Receive status alerts in real-time so you can react to any situation.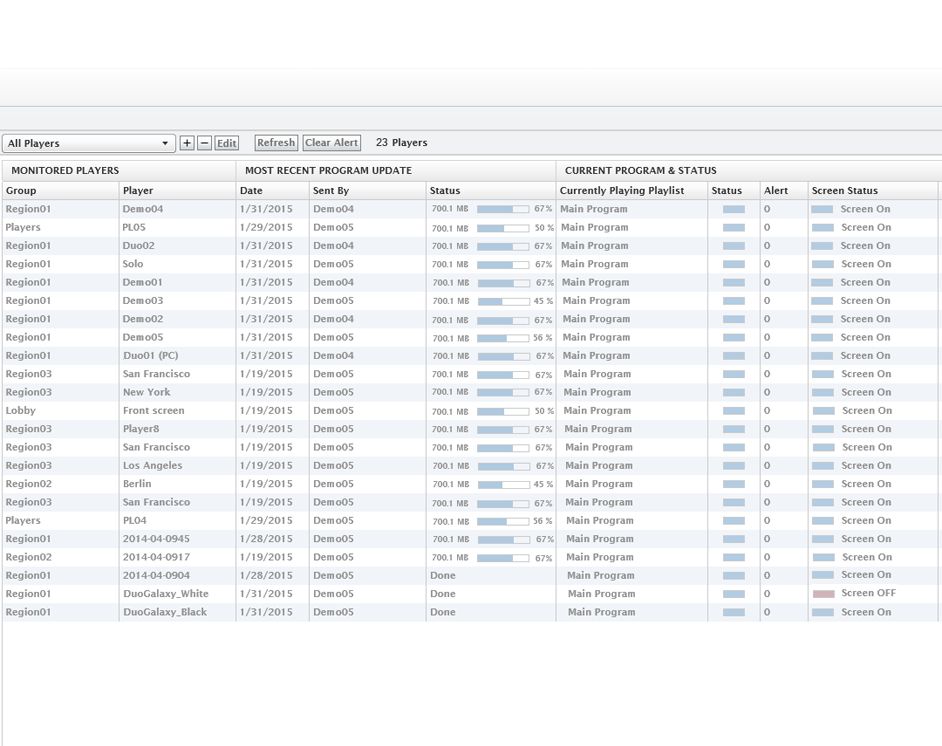 PLAYBACK REPORTING
---
QL Manager Professional includes a playback reporting add-on. Casual users can generate simple proof of playback reports in a couple of mouse clicks while advanced users can access a range of options, such as: multiple search filters, saved queries, result aggregation and file export capabilities.

Use content tagging to generate reports for specific customers or ad campaigns then email results as Excel or CSV files. You can even tell if content played full screen or in a template zone.

QL Professional's report engine has features to satisfy every type of user.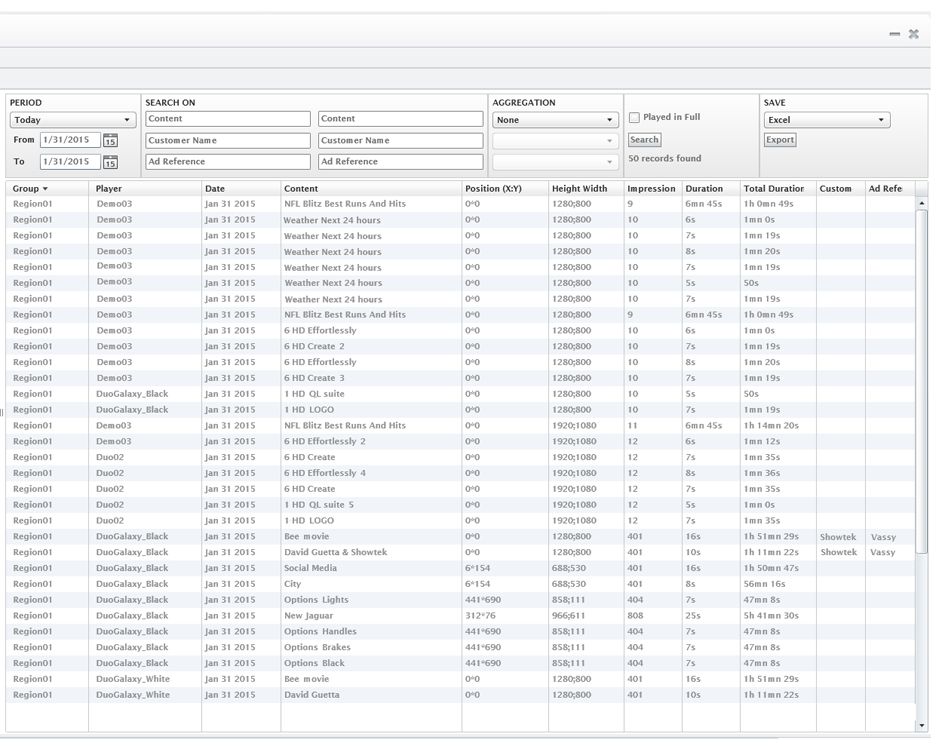 SDK COMPONENT
---
The Navori QL Server SDK includes a Web service that lets third party applications interacting with it.

• Connect their ERP systems with QL to automate user account creation and software licence management; manage end user subscriptions and offer technical support services
• Create a user interface specific to a project or customer. I.e a HTML5 or mobile application enabling on site restaurant manager to edit product name, pricing or post a message
• Digital Signage Operators connect QL Server to an e-commerce website to operate an automated subscription based digital signage software business. Provide a complete turnkey solution that handles every transaction autonomously, from user registration to software delivery.
• Export schedules and ads from their booking systems directly into QL Server. Automate content distribution and player programming. This process helps provide targeted advertising content to each individual screen based on audience statistics: age, gender, exposure time, venue demographics, audience profile and more…
•Proof of playback data extraction:

The Navori QL Server SDK includes a Web service that lets third party applications interacting with it.
WHAT REALLY MATTERS WHEN SELECTING A DIGITAL SIGNAGE SOFTWARE
Let us show you how QL Professional software can empower your
digital signage.
NAVORI LABS SERVICES
Navori helps to tune-up your digital signage software
---
---
Have a big project lined up and lack the resources to complete it? We can help. Navori Labs has the staff and the expertise to get your project completed on time and on budget. Why not put our resources to work on your next project.
---
QL Spy is a software program that lets QL Player work with interactive content that you create in HTML, HTML5, Flash or any other executable file. Combine QL Spy with QL Player to create E-commerce kiosks, information kiosks, interactive wayfinding applications and more.
---
QL may be the world's most user friendly solution, it remains a sophisticated application that can hide some of its most useful features. Navori's video training is still the quickest and most efficient way to become productive.
Top Questions
---
On Premise or Cloud digital signage software?
Cloud is ideal for people who don't want to buy and operate their own server infrastructure. It's the most cost-effective way to get QL Professional for your business. On Premise is a better option for large corporations, banks and government institutions who have the required technical resources and budgets to own and operate their server.
How about support?
QL Professional benefits from Navori's global technical support services. Support is administered online and available to every Navori support subscribers. Cloud customers are covered over the length of their subscription. On Premise customers subscribe to an annual support plan.