Do you have a digital signage project in need of a professional, and reliable software solution? Want to try QL on your own hardware? Sign-up for a free trial, and experience QL for yourself.
Next time you're at a local restaurant, look up behind the counter and pay attention to the displays hanging on the wall. Notice the big, bold graphics and videos playing? The cute animations bouncing from one display to the next? They're the ones announcing specials or new menu items. Ever wonder what's behind the scene, running the show?
It's called digital signage, and you need to know about it if you're a restaurant operator, or if you're running any business that deals with walk-in customers. Explore the costs of digital signage software.
NAVORI QL 2.0 - DIGITAL SIGNAGE SOFTWARE OVERVIEW
We can explain our Navori QL software solution in under two minutes—it's that simple.
Watch this video to find out why you should be using this unique high-performance software on the market.
Users of Windows, Android, and Samsung Tizen trust our Navori QL Player for its reliability and versatility as a media player.
By now, it's common knowledge that digital signage helps turn browsers into customers. It does so in 3 ways:
1.

Digital signage informs the viewer.You can show images, animations and videos to increase brand awareness or promote your products. As opposed to static posters where content never changes, digital signage gives you the opportunity to change your message constantly.

Think of it as your own private TV network where you get to pick what plays, and when. If you're in the hospitality industry, you can change menus according to the time of day, day of the week, and switch to specials during holidays. But it's not just for restaurants. Any business will benefit from changing their message over time. Discover digital signage solutions for small businesses.

2.

Digital signage delivers a personal touch.Reach out to customers by personalizing their content. Use RFID sensors, or iBeacons to detect customers who downloaded your smartphone loyalty app. Show these viewers ads that are more meaningful and elevate your brand.

No other advertising technology can deliver such targeted messages at the point of decision. This is especially important for retailers and similar businesses who have been losing sales to showrooming. It's what happens when in-store visitors compare prices with e-commerce sites before making a purchase. It's a real trend that impacts sales, but retailers have been fighting back.

Traditional retailers are attacking this trend using a range of techniques.

For example, many have created destination shops that rely on digital signage to inform and entertain customers inside the store. They maintain a thriving presence on social media and develop their own mobile apps. They also invest heavily in their own websites, to promote their brands, and pull customers in.




This is called an omni-channel approach, and it's proven to be quite effective at reversing showrooming. Digital signage plays an important role in any omni-channel strategy. Find out how digital signage works in retail.

3.

Digital signage empowers customers. Interactive displays serve a dual purpose. They deliver traditional digital signage content and react to a visitor's input. Touch screens positioned strategically inside a store can serve as tour guides by directing visitors to their destination. Interactive displays can also deliver valuable information.

Visitors can review product features through online animations and videos. Curated social media feedback is another great source of information that can be delivered using digital signage displays. Read more on interactive digital signage.
GET A FREE SOFTWARE TRIAL
Digital signage is made up of a lot of parts.
Software
Access to internet or a local network
PCs or media player devices that can download and play content
LED displays to show the results.
Most digital signage software is made up of a series of modules that work behind the scenes, making sure the right content is always shown at the right location. This software also ensures the content plays when it's supposed to. It orchestrates everything based on your instructions.
There are many types of products aimed at making digital signage work. In this article, we'll focus on the most important ones. Here are the components that make up your typical digital signage solution:
THE CMS SERVER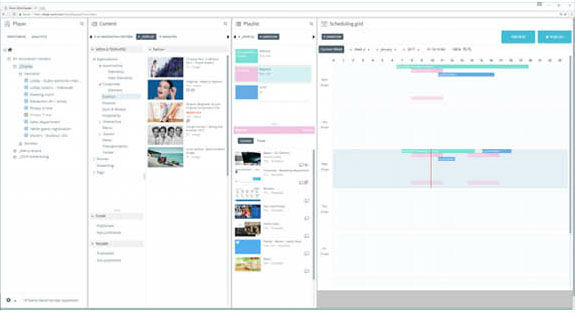 It's the heart of any digital signage software. The CMS server works with a database to track everything managed by the system. It stores information about:
Each locations and media player
All the content stored on the system
Who can access as well as manage the content.
This is where many solutions fail. Sometimes the database is inefficient, or the software starts to slow down after you hit a certain limit of players, content or users.
You need a CMS server that is efficient and reliable. One that is built on solid technologies, and will easily scale as your needs grow. There is nothing more important than scalable software for any growing business.
There are two categories of CMS server software.
Cloud-based (also known as software-as-a-service or SaaS)
On-Premise (purchased software hosted on your own hardware).
As you do your research, it's important to understand the differences between each one.
GET A FREE SOFTWARE TRIAL
Cloud based digital signage software:
The terms "cloud-based" and "SaaS" come up a lot. It seems like everyone is running software in the cloud. But what does it really mean? In a general sense, cloud based means you're paying for the use of the software. You don't own individual software licenses and you don't control where the product is installed or how it's operated.
The best cloud-based software providers invest a great deal of money in server hardware, data storage, network equipment, and IT staff to manage and maintain their servers. Most of these companies host their CMS software with a third-party provider, which is usually a larger entity totally focused on maintaining the highest service levels. There is an advantage to this. Server hosting companies have specific expertise around running large numbers of virtual machines in secure environments. They can also easily increase server capacity as needed.
The best cloud-based digital signage companies can't afford any service outages, so they host their CMS servers with the best providers. They rely on Microsoft Azure and other top-tier hosting providers.
Look for companies that have been around a long time and have a good track record. Get more information about Navori QL Cloud or learn about open source and the cloud.
Since you're basically renting, there is no large up-front investment associated with cloud based digital signage software. Most cloud services are priced monthly / billed annually, with increasing volume discounts as you hit specific targets.
There is no local CMS server to install or maintain. Nothing to monitor or software to update. Choose a reliable cloud partner and you won't have to deal with security issues. Simply deploy your media players, and focus on your business.
Choosing cloud based software can be liberating, but you must pick a partner you can trust. So, do your homework. Check references, and ask lots of questions before you take the plunge. Changing course when you're into a large digital signage deployment can be a nightmare, so you must choose wisely.
Cloud based services are best for startups, small businesses that don't have technical staff available to install and maintain a CMS server on-site, and larger companies that are growing rapidly. It's also a fantastic way to launch a test site before a larger rollout. Cloud based solutions are ideal for those who can't throw all their resources into a single project.
On-Premise digital signage software:
Have you ever bought software and installed it on a local PC or server? Then you know what "on-premise" software means:
You buy software licenses.
You install the software on your own equipment - or on a server hosting provider's hardware.
You manage and maintain the software yourself.
You have total control over the CMS server's environment, so you can add capacity as needed.
On-premise was the only option before cloud computing became popular, and this remains an extremely attractive option for many companies, both big and small.
Not all software publishers offer both cloud and on-premise options. Many offer only one type or the other, so it's important to ask if an on-premise version is available. Get more information about Navori QL On-Premise for network operators.
Choosing the on-premise option means purchasing individual software licenses (one for the CMS server, and one for each media player software you intend to deploy). There is usually no monthly fee, but you should check with your preferred software publisher, as many offer support and maintenance plans which are billed annually.
On-premise digital signage software is popular with companies who wish to control every aspect of their digital signage network. It's also a great option for those who can afford the up-front capital expense.
On-premise software can be hosted by a third-party. While many financial institutions, government departments, and hospitals choose to purchase their own software, they will often host the product elsewhere. That way, they get the best of both worlds. They control every aspect of the software, and own their licenses while they avoid having to manage the day-to-day maintenance of their servers.
Many large companies rely on Microsoft Azure, Amazon AWS and other top-tier hosting providers, because they already use them for other business applications.
This way, you can purchase and host your software inside your own premises, or host it with a third-party.
THE USER INTERFACE (A.K.A. THE "DASHBOARD")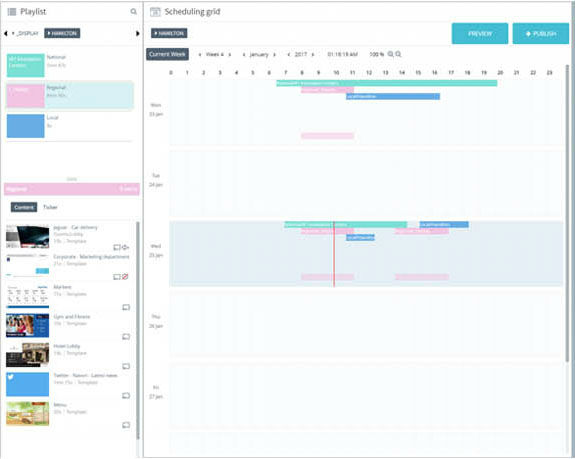 Anyone who has ever used a personal computer knows about the rivalry between Microsoft and Apple. The big differentiator between these products is their product's user interface (UI). It's a known fact that many people approach software UIs with a quasi-religious fervor. They either love a product, or they hate it. When software users' minds are made up, it's almost impossible to make them switch.
The same can be said of your typical CMS user interface. Some UIs are so complicated that only an engineer can use - or love - the product. Others are so devoid of features, they're almost totally useless.
When evaluating digital signage products, pay attention to the CMS user interface. The simpler and easier the software's UI, the faster people can master it. It's why you need software that is intuitive. It will require less training, so your staff will become more productive quicker.
This will lower your company's operating expenses (OPEX) and promote better employee morale. Find out more about the cost of free software.
GET A FREE SOFTWARE TRIAL
THE DIGITAL SIGNAGE MEDIA PLAYER
The last piece of the puzzle is the media player. Every digital signage software on the market uses a software media player. It's what drives the show, and it's the driving force behind the screens. So, what makes one product better than the other? Let's find out.
In software, native is best!
Native software is always the best choice. It means the program was written and compiled specifically for the hardware and operating system it's meant for. Native software has direct and total access to the processor, video card, and onboard memory. The result is software that is more efficient and more reliable. There are less crashes, and content playback is smoother. When talking about digital signage media player software, native trumps everything else.
The alternative - interpreted software - is cheaper and quicker to develop. However, interpreted software can't deliver the reliability and efficiency of native. Be sure to ask how your software was developed before making your choice.
Update in Place
Every software needs to be updated periodically. Sometimes, it's for performance enhancements, or the addition of new features. Digital signage media player software is no different. It needs to be updated from time to time. How you go about updating your digital signage software is as important as when you do it.
Let's be frank. Performing software updates is somewhat of a chore, especially if you must physically access each PC or media player device to perform the work. Thankfully, there are digital signage software products that let you perform updates remotely, from the comfort of your office. You don't have to visit each location, or email copies of the software updater to your colleagues.
Look for a digital signage software that lets you schedule your updates and executes them remotely. These are the products that will save you time and money.
Learn about the Navori QL Player.
GET A FREE SOFTWARE TRIAL
THE DIGITAL SIGNAGE MEDIA PLAYER
The last piece of the puzzle is the media player. Every digital signage software on the market uses a software media player. It's what drives the show, and it's the driving force behind the screens. So, what makes one product better than the other? Let's learn more about digital signage players.
LEARN MORE >