Select a module and learn more...
Ticker designer
CREATE NEWS TV TICKERS IN MINUTES!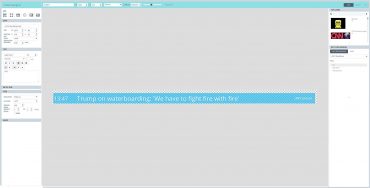 Tickers are displayed as an overlay, meaning they "float" on top of the scheduled content so they can be placed anywhere on screen.
Tickers can show any supported data feed such as stock market prices, production status figures, news items and many other types of data driven content. You are only limited by your own imagination.
Transparency is preserved, you can anchor your logo or a clock in one corner of the screen and display a news ticker near the bottom of the screen. You can even display more than one ticker with each one pulling data from different sources.