Stix 3500 – The Ultimate 4K player device for Digital Signage
Stix 3500 is the ultimate 4K DS player device designed exclusively for QL Player.  It's simply the most powerful digital signage software media player available on the market. It supports native 4K resolution, renders content with an unprecedented quality and smoothness.
Featuring HDMI-CEC display control, passive cooling aluminum shell it supports the most advanced QL Player software functionalities.  It is designed from the ground up for digital signage.
Stix 3500 is delivered ready to use, right out of the box.  Simply connect the player to your screen's HDMI input, hook up the USB power cable and you are ready to go.
This signage player  can be shipped worldwide from our offices.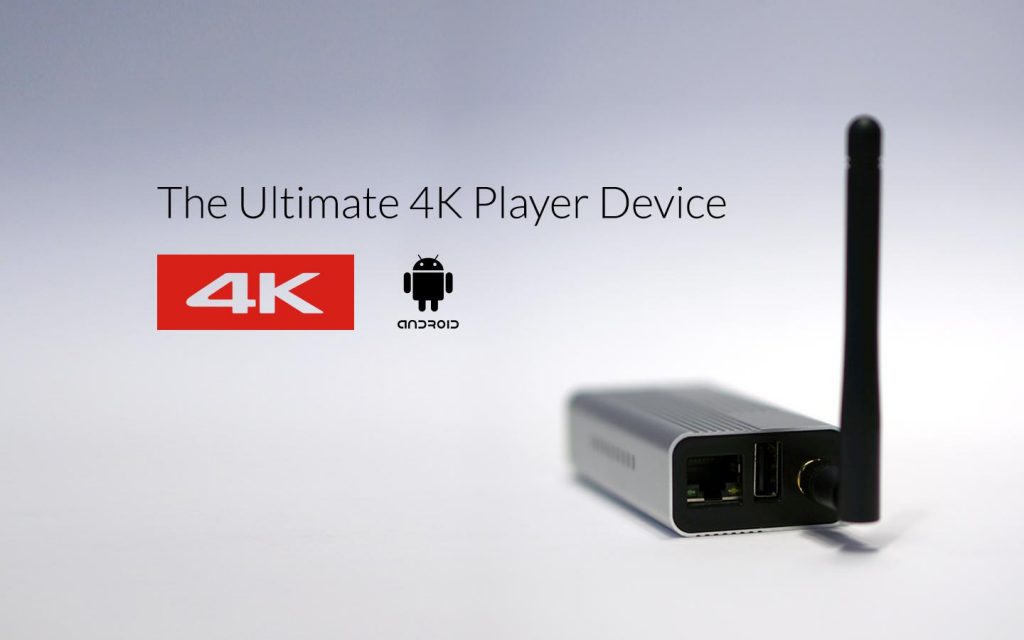 DIGITAL SIGNAGE SPECIFICATIONS:
Native resolution
4K@30fps, 2K@60fps
Renders 3 videos 1080p simultaneously
Portrait – Landscape
HDMI-CEC Control
HDMI 2.0 – Turns screen ON/OFF through HDMI CEC
Auto selection of display's source
Date and Time Storage
Real-time clock (RTC)
Automated procedures
QL Player software upgrade
Reboot
Software and hardware watchdog
Content supported
HTML5, HTML with interactivity
Video: MP4 H264, WMV, MOV
Jpg, Png
HTTP, RTSP and RTP  streaming
XML, RSS, Media RSS
Twitter, Facebook, Instagram
Fonts
True type fonts supported
Remote Control
VNC,

TEAM VIEWER

3G connection
Optional with USB 3G dongle (Contact us for details)
HARDWARE SPECIFICATIONS:
| | |
| --- | --- |
| GPU | Mali T764 – 16 Cores |
| Processor | Cortex A17 – Quad-core |
| RAM | 2GB |
| Storage | Internal 16GB (11GB Available for content storage) + Micro SD Slot hosting card of up to 128 GB |
| LAN | Ethernet RJ45 – Gigabit |
| WiFi | 5G and 2.4G dual channel |
| Operating system | Google Android 5.1 |
Stix 3500 is an external media player suitable for digital menu boards, retail, corporate communications and more… It supports digital displays, multi-display, interactivity, content triggering and way finding. 
Contact us!
Introducing the QL Stix 3500 4K Android Media Player

Here is the QL Stix 3500.  It is a powerful 4K media player with 16 core GPU designed especially for professional digital signage using the Navori QL player software.  Simply plug it in into the HDMI port of your screen.  It is perfect for 4K resolutions and lower.  We support two types of connections either via Ethernet or WiFi.

Meeting room information pulling from a scheduling tool.  You can see the data in real time.  A fully populated menu populated through a POS system.  In this example you can see a 4K video with a ticker overlaid on top.  Over here we have an example of queuing information in a car dealership with multiple layers of content.

It can integrate with social media, Instagram, Twitter, other sources as well.  Over here we have an example of a Media RSS so you can see the images coming in along with the news feed at the same time.  This is an example of pulling XML data with stock information so you can see the data will update itself at a definable refresh rate.  You have hotel type templates as well with multiple layers, real-time data, wayfinding, date and time.  Over here you have a departure schedule so this is pulling the data in real-time from the database for the flight information.

Navori QL Stix 3500 can manage your source selection and turn the screen on and off using CEC controls.  You can also manage your players from a distance using TeamViewer.